The Lewis-Ezekoye Distinguished Lectureship Series in Africana Studies is an annual lecture with a focus on interdisciplinary subjects that are at the heart of African diasporic and African scholarship, artistic creation, community-centered commitments, and social engagement. This lectureship series is named for the sustained, collaborative friendship formed by two Barnard alumnae—Denise Lewis (Class of '66) and Adaeze Otue Ezekoye (Class of '66).
The series takes its place among a handful of distinguished lectureship series in Africana Studies around the country thanks to an endowment by Ms. Denise Lewis '66. This series honors what she has described as transformative experiences at Barnard and the enduring and unexpected gift of friendship that began when she and Ms. Adaeze Otue Ezekoye met at Barnard College as first-year students. 
The series reflects the spirit of this gift with lectures and related events by innovative and inspiring scholars, artists, activists, and visionary thinkers who address key issues in African Diaspora Studies. Past speakers include Ntozake Shange (Class of '70), Jaki Shelton Green, Ruha Benjamin, and Chanda Prescod-Weinstein.
This annual lecture is open to the public, and it draws attendees from Barnard College, Columbia University, various communities throughout New York City, and especially our surrounding neighborhoods. We welcome visitors from near and far!
The 2023 Lewis-Ezekoye Distinguished Lectureship Series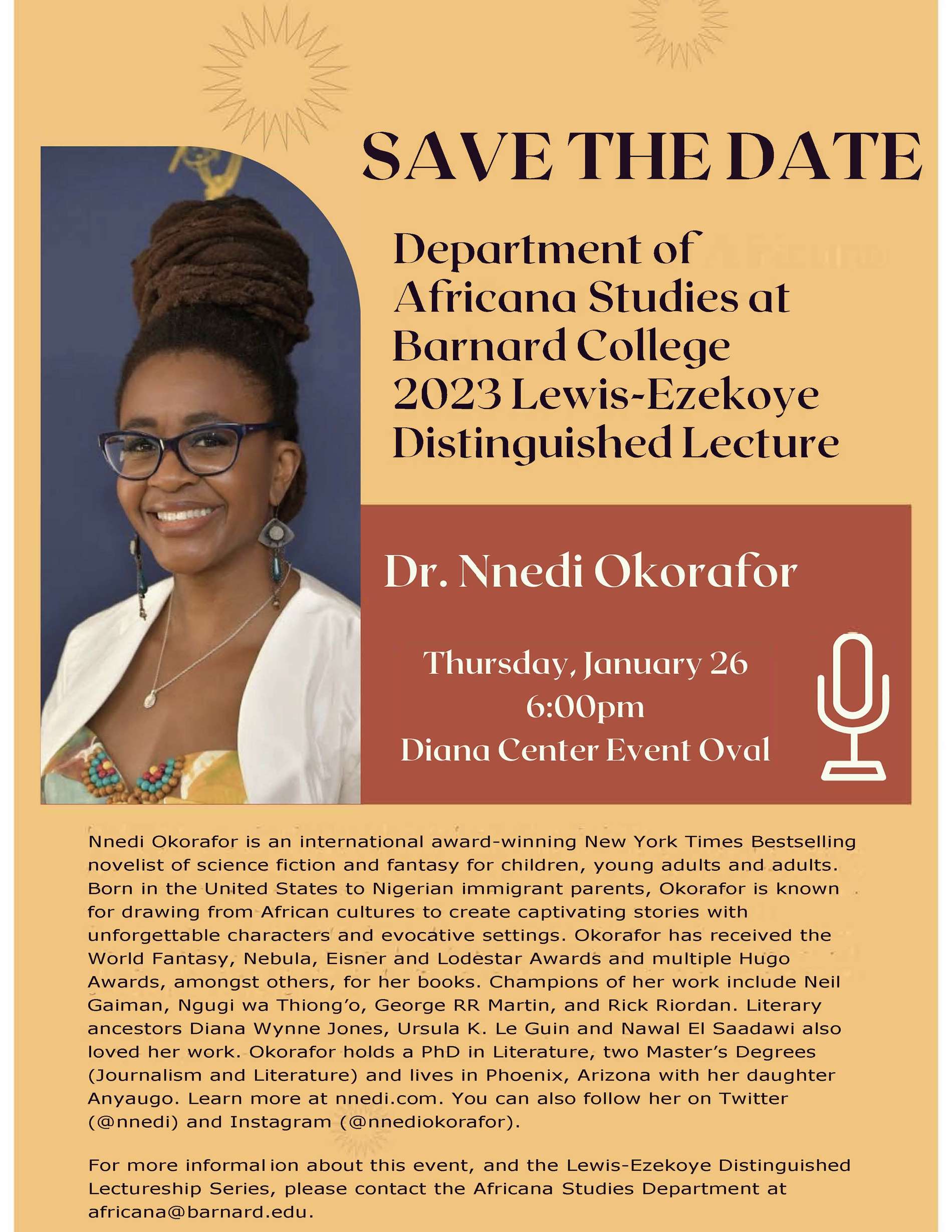 Nnedi Okorafor is an international award-winning New York Times Bestselling novelist of science fiction and fantasy for children, young adults and adults. Born in the United States to Nigerian immigrant parents, Okorafor is known for drawing from African cultures to create captivating stories with unforgettable characters and evocative settings. Okorafor has received the World Fantasy, Nebula, Eisner and Lodestar Awards and multiple Hugo Awards, amongst others, for her books.
Champions of her work include Neil Gaiman, Ngugi wa Thiong'o, George RR Martin, and Rick Riordan. Literary ancestors Diana Wynne Jones, Ursula K. Le Guin and Nawal El Saadawi also loved her work. Okorafor holds a PhD in Literature, two Master's Degrees (Journalism and Literature) and lives in Phoenix, Arizona with her daughter Anyaugo.
For more information about this event, and the Lewis-Ezekoye Distinguished Lectureship Series, please contact the Africana Studies Department at africana@barnard.edu
2023 Lewis-Ezekoye Distinguished Lecture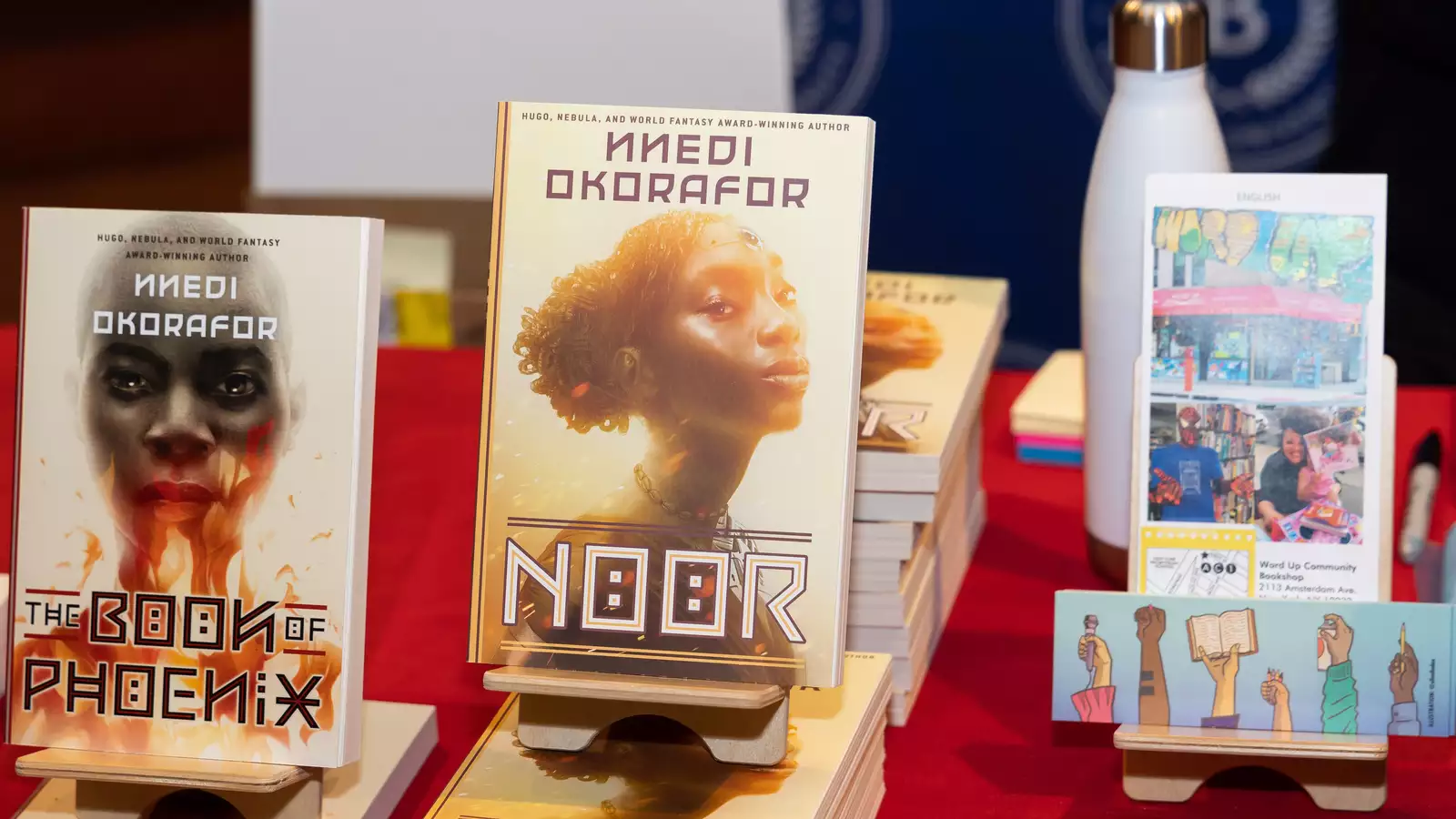 Reflections on Barnard and Beyond: A Conversation with Ms. Denise Jackson Lewis `66 and Adaeze Otue Ezekoye `66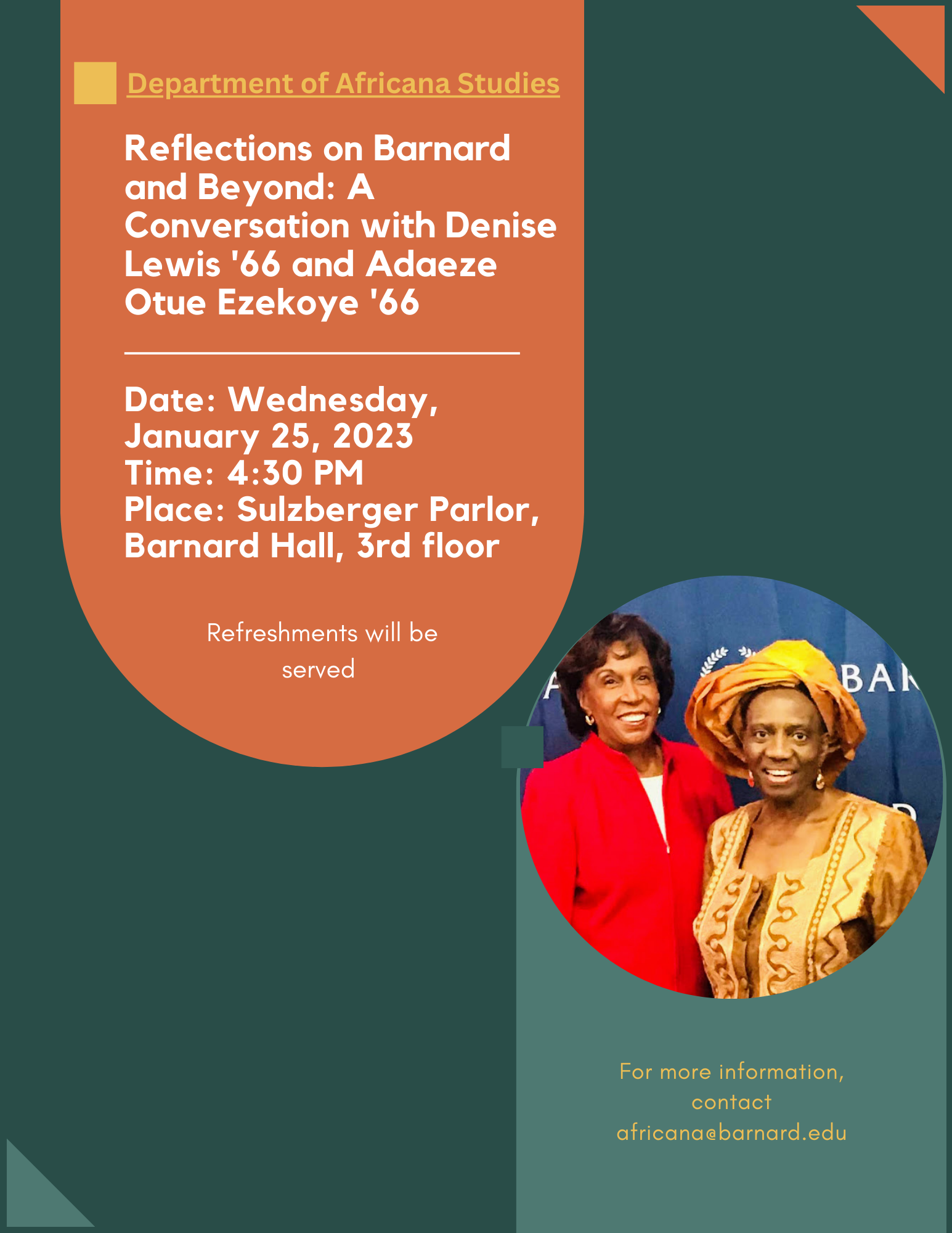 In addition to our annual Lewis-Ezekoye Distinguished Lecture on
January 26 th , we will host a special event on Wednesday, January 25 th with
our distinguished alumnae Denise Lewis and Adaeze Otue Ezekoye. The
event will begin at 4:30pm in the Sulzberger Parlor (3 rd floor, Barnard
Hall). This event will be a conversation between Denise Lewis and Adaeze
Ezekoye about their experiences at Barnard in the 1960s, as well as their
individual and collective life journeys. The moderator for this event will be
Naomi Jones, Africana Studies major, Class of 2023.  This event is also open
to the public.