The Lewis-Ezekoye Distinguished Lecture in Africana Studies is an annual lecture with a focus upon interdisciplinary subjects that are at the heart of African diasporic and African scholarship and artistic creation, and community and social commitment.
The series takes its place among a handful of distinguished lecture series in Africana Studies around the country thanks to an endowment by Mrs. Denise Jackson-Lewis('66)  in honor of what she has described as transformative experiences at Barnard and the enduring and unexpected gift of friendship that began when she and Adaeze Otue Ezekoye('66) met as College freshmen. The lecture reflects the spirit of this gift by drawing to Barnard scholars, artists, activists and thinkers from within national and transnational circles. 
The 2021 Lewis-Ezekoye Distinguished Lecture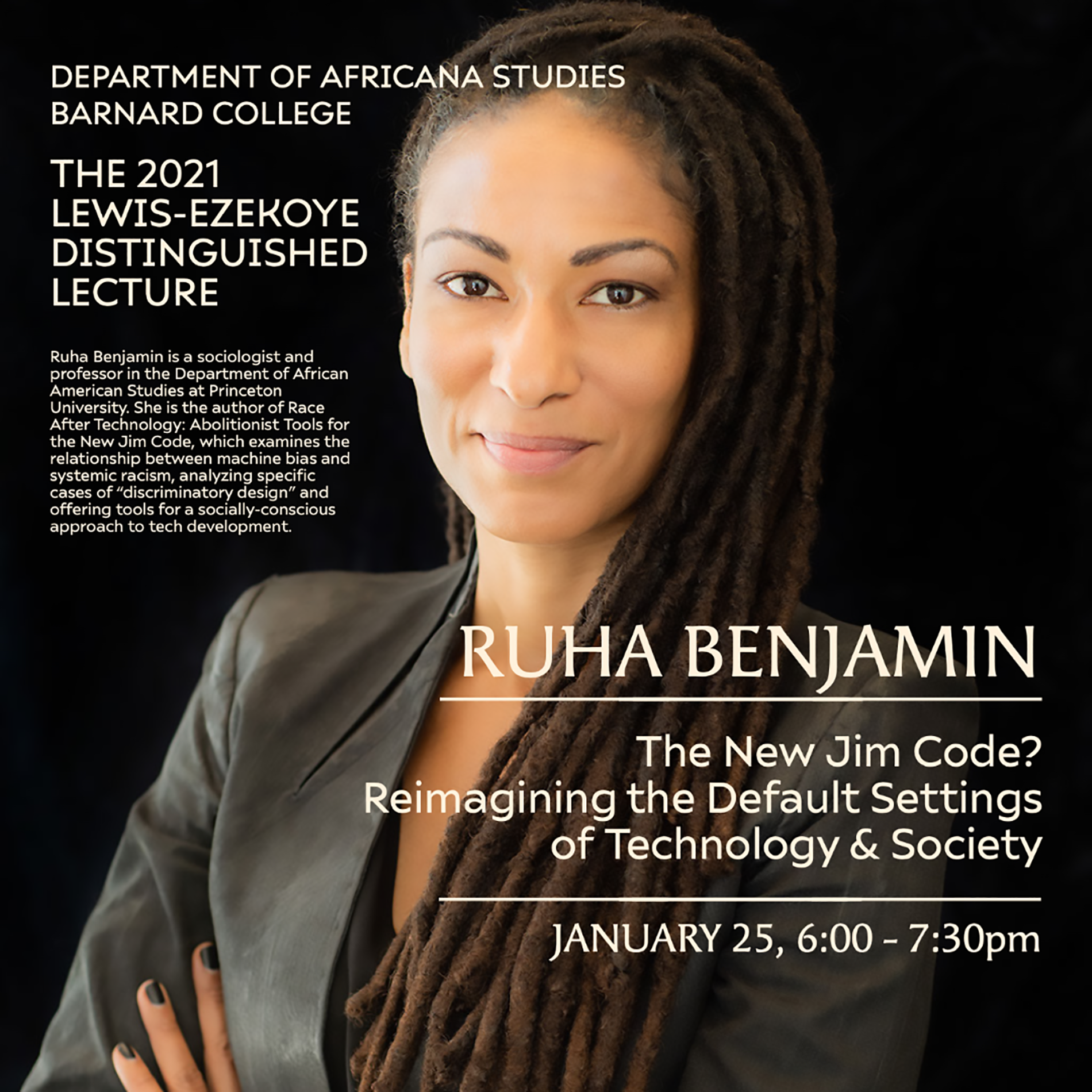 The  New Jim Code?
Reimagining the Default Settings of Technology & Society
Ruha Benjamin is a sociologist and professor in the Department of African American Studies at Princeton University.  She is the author of Race After Technology:  Abolitionist Tools for the New Jim Code, which examines the relationship between machine bias and systemic racism, analyzing specific cases of "discriminatory design" and offering tools for a socially-conscious approach to tech development.

 
Lewis-Ezekoye 2019 Honorary Speaker

The Poet as Documentarian, Historian, Agitator
Featuring honored Speaker
Jaki Shelton Green
This annual lecture series highlights some of the most innovative and inspiring scholars, artists, activists and visionary thinkers who address key issues relative to African diaspora studies.The series celebrates and commemorates the sustained, collaborative friendship formed by Denise Jackson Lewis '66 and Adaeze Ezekoye '66.
Lewis-Ezekoye 2019 Honorary Speaker