Ntozake Shange '70's Revered Play 'for colored girls,' Endures More Than 40 Later
For the first time since the play debuted in 1976, The Public Theater brought the Obie Award-winning production to a new generation of audience members. And Barnard was in the house.
[Photo: Shange, 1976. Photograph © Sylvia Plachy. Reprinted courtesy of the Ntozake Shange Literary Trust.]
The Rich Legacy of Ntozake Shange '70

Barnard College mourns the loss of alumna and black feminist icon Ntozake Shange '70, who passed away on Saturday, October 27, at the age of 70 after a prolonged illness. Shange, who graduated from Barnard as Paulette Williams, was best known for the Obie award-winning choreopoem for colored girls who have considered suicide / when the rainbow is enuf, for which she won an Obie Award. Barnard has been privileged to honor Shange's works in and out of the classroom.
In recent years, "Zake"—as she asked members of the Barnard community to call her—was an active and vital member of the Barnard community. Her campus visits were transformative for the entire community, particularly for Barnard students who understood that she was as visionary as she was inspirational.
Shange's collection of works, housed in the Barnard Library Archives and Special Collections, is a rich tribute and sample of her craft and art. Shange chose Barnard to acquire her collection because, she said, the College is the site of her formative artistic, political, and intellectual experiences.
In 2013, the Africana Studies Program, the Consortium for Critical Interdisciplinary Studies, and the Barnard Center for Research on Women held a conference devoted to the life, works, and legacy of Shange, "Worlds of Shange," which brought together scholars and artists who are shaping conversations about African-American arts and letters as well as gender in the African diaspora.
The series culminated in devoting the entire Summer/Fall 2014 issue of Scholar & Feminist Online to the examination of Shange works. In the video below, scholars, writers, and artists explore her genre-defying achievements and ongoing influences.
Inaugural of the Lewis-Ezekoye Distinguished Lecture in Africana Studies.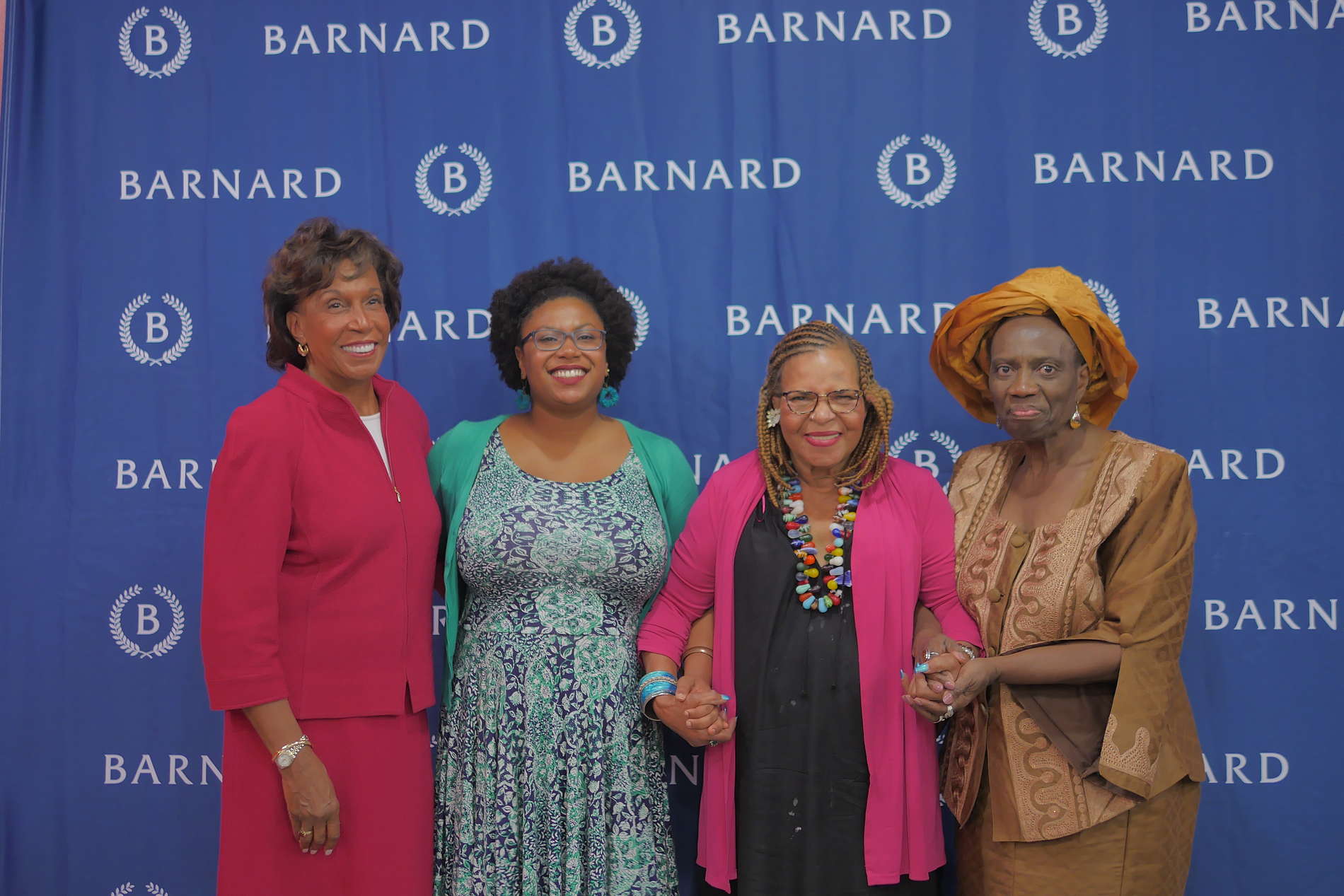 Shange was on campus most recently in September to inaugurate the Lewis-Ezekoye Distinguished Lecture in Africana Studies.
Shange's works will continue to breathe life into the study of the African diaspora, feminism, and performing arts.
Africana Studies and the Barnard College Archives invited Shange's admirers on Tuesday, October 30, to experience the collection, read her poetry, and rejoice in her legacy. The College is planning a formal tribute in 2019.