A Statement From Africana Studies Faculty
"When our lived experience of theorizing is fundamentally linked to processes of self-recovery, of collective liberation, no gap exists between theory and practice." —Audre Lorde
---
The faculty and administrators of Africana Studies Department stand with those individuals and organizations in the Barnard-Columbia community, in New York City, in the United States, and throughout the world who have conveyed support for the individual and collective acts of resistance and rage in the streets of the United States in response to the ongoing devaluation and destruction of Black people of all ages, genders, sexualities, and abilities.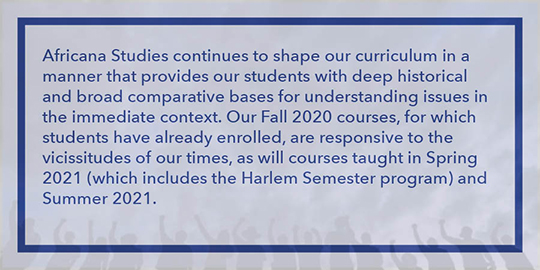 The deaths of so many at the hands of police in recent months have brought us to a breaking point as a nation. Most visible of these have been: Ahmaud Arbery (February 23, 2020), Breonna Taylor (March 13, 2020), Sean Reed (May 6, 2020), George Floyd (May 25, 2020), Tony McDade (May 27, 2020) and Dave McAtee (June 1, 2020). At the same time, systemic racism continues to find expression in claims to 'knowledge' about Black people. This 'knowledge' is stereotyping and its language has been weaponized. This is why, when a white woman reported bird watcher Christian Cooper (May 25, 2020) to New York City police as a threatening "African American man"—displacing her threat onto Cooper—she relied upon such 'knowledge' and, in doing so, summoned the bias of the carceral state and its techniques of protecting the privileges she embodied.
As others have rushed to make statements about the discounting of Black lives, the faculty of the Barnard College Department of Africana Studies have taken the time to reflect upon these killings. We are, above all, a community of scholars who teach and our task in this moment is to find a way to enable our students and community to contribute their knowledge to the necessary tasks of transforming this society in the interests of racial and gender justice. In all of our work, we bring deep historical analysis of racialization in the USA and elsewhere together with critical analytical skills through our research and teaching. We will continue to teach, to support our students, to contribute to Barnard's curriculum, and to participate in the necessary public discussions aimed at the elimination of racial inequality.
We say these names, Arbery, Taylor, Reed, Floyd, McDade and McAtee, to remember them and to insist that others do so. We say these names just as we do Sandra Bland, Philando Castile, Tamir Rice, Michael Brown, Eric Garner, Trayvon Martin...
We say these names and know that individually and collectively they are a call for work still to be done, actions still necessary. And we say them knowing that there are myriad, multigenerational demands for justice in this country and in the world.
Anti-Black racism wedded to state-sanctioned violence did not begin in this country in the 1990s (with the savage beating of Rodney King in Los Angeles on March 3, 1991), or in the 1960s (in the midst of the Civil Rights Movement), or in the 1920s (in the wake of the race massacre/race riot in Tulsa in 1921). Rather, anti-Black violence and white supremacy in the United States have their historical groundings in the very roots and crevices of slavery and that institution's deep and inextricable entanglement with the devaluation and destruction of Indigenous peoples and nations. The contemporary iterations of racial injustice and violence emerge in murderous acts of police brutality, as well as in the systemic violence and murderous processes of racial disparities in food (in)security, health care, education, housing, (un)employment, and other fundamental aspects of American society.
This is why we say today's names knowing that history reaches back, across this country, across an ocean and continent, and knowing that this long reach is haunted by countless named and unnamed souls who have been the victims of crimes against Blacks and violations of Indigenous peoples in the forms of genocide and displacement.
All in Barnard College's Africana Studies—faculty and administrators—stand firm, stand resolute in the knowledge that we are not alone. With our colleagues in the Consortium for Critical Interdisciplinary Studies and the Barnard Center for Women and Gender we work to hold our College to its pledge to provide an inclusive curriculum that addresses equity and that aspires to diversity and inclusion.